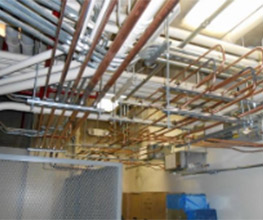 The Jackson Place Townhouse complex is located behind the White House and is occupied by This section of the complex houses offices for White House support staff. Due to the age of the buildings and inefficiency of the heating and air conditioning systems, GSA solicited JRA to perform an HVAC upgrade to the facility.
JRA performed the renovation and upgrade to the building by installing a new Variable Refrigerant Flow system for the air conditioning system. The heating upgrade was achieved by connecting new equipment and piping to the existing heating water system in the building. This work included removal and replacement of hydronic piping systems, installing new energy efficient fan coil units and new refrigerant piping for their proper operation. Wall cutting and patching was necessary for removal of existing equipment and concealed pipes. Once patching had been completed, painting to match existing interiors was performed. Landscaping was repaired after installation of exterior condensing units were in place.
All construction work was performed during night hours or weekends when required. The buildings remained open during the construction process which required minimal disturbance to and daily cleaning of all work areas.