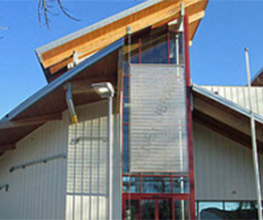 Olney Library Renovation and Addition located in Montgomery County, Maryland is revered as one of the county's newest contemporary designs in architecture. The structure itself is a work of art and adds more character to the vibrant pieces contained within its walls.
JRA & Associates was responsible for the plumbing and mechanical installation on this project which included a 20 ton chiller and (2) hydronic boilers with a variable air volume heating and air conditioning system. A radiant flooring system in the preschool area, as well as an open ceiling boasting interior heights of over 35 feet, are among the Library's impressive features.
The utilization of safety parameters such as fall protection to ensure the safety of workers while installing at such heights was closely monitored as with all JRA projects. Although the design of the structure proved to be more demanding than a building of average height, JRA's ability to perform effectively and safely was without question.